All posts in category Thunderlads at Large
Posted by acilius on July 6, 2015
http://losthunderlads.com/2015/07/06/occupations-in-which-people-are-somewhat-more-likely-than-average-to-wear-bowties/
The other day, I noticed a tweet in which Cliff Pickover linked to a 2010 article by Sean Carroll called "Free Energy and the Meaning of Life."
The article, which I had not seen before, included this paragraph:
Because the Second Law of Thermodynamics tells us that entropy increases, the history of the universe is the story of dissipation of free energy. Energy wants to be converted from useful forms to useless forms. But it might not happen automatically; sometimes a configuration with excess free energy can last a long time before something comes along to nudge it into a higher-entropy form. Gasoline and oxygen are a combustible mixture, but you still need a spark to set the fire.
and this one:
Here is the bold hypothesis: life is Nature's way of opening up a chemical channel to release all of that free energy bottled up in carbon dioxide in the atmosphere of the young Earth. My own understanding gets a little fuzzy at this point, but the basic idea seems intelligible. While there is no simple reaction that takes CO2 directly to hydrocarbons, there are complicated series of reactions that do so. Some sort of membrane (e.g. a cell wall) helps to segregate out the relevant chemicals; various inorganic compounds act as enzymes to speed the reactions along. The reason for the complexity of life, which is low entropy considered all by itself, is that it helps the bigger picture increase in entropy.
I tweeted the link, adding these comments:
You may recognize the reference to Stewart Brand's famous remark, "On the one hand, information wants to be expensive, because it's so valuable.  The right information in the right place just changes your life.  On the other hand, information wants to be free, because the cost of getting it out is getting lower and lower all the time.  So you have these two fighting each other."
Of course, it was just Professor Carroll's use of the collocation "Energy wants" that reminded me of Mr Brand's quote and led me to parody it.  Energy doesn't at all want to be useful, and biochemical processes don't at all fight entropy.  Life, like all physical processes, continually increases entropy.
Anyway, I do want to put in a partial defense of something which Professor Carroll explicitly rejects.  Here's his opening paragraph:
When we think about the "meaning of life," we tend to conjure ideas such as love, or self-actualization, or justice, or human progress. It's an anthropocentric view; try to convince blue-green algae that self-actualization is some sort of virtue. Let's ask instead why "life," as a biological concept, actually exists. That is to say: we know that entropy increases as the universe evolves. But why, on the road from the simple and low-entropy early universe to the simple and high-entropy late universe, do we pass through our present era of marvelous complexity and organization, culminating in the intricate chemical reactions we know as life?
That "Let's ask instead" makes it clear that the phrase "the meaning of life" appears in this article rather jocularly. Professor Carroll and his friends are reinterpreting the question "What is the meaning of life?" to mean, not "What meaning has the transcendent order of the universe inscribed on life?," but "What is there about life that might make it interesting to a physicist whose primary concern is with cosmology on a large scale?"  That is, in itself, a fine question, and in an age when the idea of the physical universe as a place nested in a larger order that inscribes it and its parts with true and eternal meanings is not in all quarters regarded as a self-evident truth, it might seem like a natural way of repurposing a chunk of language that might otherwise have fallen into disuse.
Still, I do think that a question like "What is the meaning of life?" can still be asked coherently in something like its old sense.  Moral Foundations Theory, pioneered by people like Jonathan Haidt, shows that social scientists are capable of describing the concerns that lead people to decide that some things are sacred in a way that puts them above judgment, some are distasteful in a way that puts them beneath notice, and some are subject to evaluation.  For an example of something that is above judgment, imagine a pious monotheist hearing that some or other story about God makes God look bad.  To such a person, making that observation shows only that the observer is looking at the story from the wrong angle and missing its point.  For an example of something distasteful in a way that puts it beneath judgment (what Edith Wyschogrod, following Heidegger, called "bare life,") imagine a discussion among philosophers about the ethical implications of particular methods of trimming one's toenails.  The average person would burst out laughing if s/he overheard such a thing.
The tripartite moral reasoning that isolates the realm of judgment from, on the one hand, a super-moral realm of the sacred, and on the other from an infra-moral realm of bare life hinges on the concept of meaning.  The infra-moral is not only distasteful, but meaningless.  The other two realms each have their own particular forms of meaning.  The meanings of actions that are subject to judgment are intelligible to reason and open to rational challenge.  The meaning which sets the sacred realm apart is one which is ultimately mysterious, that is to say, beyond the capacity of language to express or of the rational mind to comprehend.  The moral reasoning that carries us through the realm of judgment does involve continual attempts to identify the boundaries of that realm.  So we again and again look for fragments of the sacred in our rational surroundings, and for fugitive significances in the realm of bare life. The three realms thus interpenetrate each other.
Indeed, the examples of "anthropocentric" answers that Professor Carroll gives to the question would suggest a world that has already drifted far from the views of the Stoic and theistic thinkers who used to ponder questions of transcendent meaning.  If by "love" we mean, not the set of social connections and moral obligations that word would have brought to the minds of people in the days when Stoicism and theism were the default world-views, but an emotional state characterized by extreme attachment between individuals and those individuals' fervent desire to enjoy life together, then it's difficult to see what "meaning" has to do with it.  "Meaning" is a word we borrow from descriptions of communicative behavior, and the part of that emotional state which we tend to call "love" in our day and age is precisely the part that has the least to do with the pair's efforts to send or receive or preserve messages outside itself.  That intensely private, intensely intimate relation is a brute fact, not inscribed with any particular meaning intelligible to anyone outside the pair.  Even the members of the pair, as their feelings evolve, cannot entirely comprehend the particular emotional state they inhabited in earlier phases.
That's as much a state of matter as or "self-actualization" in its in this article after starting with a brisk dismissal of "anthropocentric" ideas that invoke it.  I made an almost-serious suggestion here a little while ago about something that we might want to think about when we think about life as something capable of carrying meaning.  Like Professor Carroll, I do think that if we are to find anything useful about such an expression it ought to apply to more than human life.  On the other hand, it ought to be about humans.  The proper question to ask is, what is it about life that makes it possible for humans to find meaning, not just in their own individual lives or in each other's lives, but in the fact that they are living beings like other living beings.
Posted by acilius on June 22, 2015
http://losthunderlads.com/2015/06/22/meaning-of-life/
Yesterday, I posted this on tumblr:
I don't exactly agree with what I said there, that we must not remember the twerp or his cause.  It's really more that we have to strike a balance, and that balance is nearly impossible to achieve.
On the one hand, terrorists kill because they want to become famous and to gain publicity for their cause.  Therefore we should ignore them.  On the other hand, terrorists kill because they want to blind us to the humanity of their victims and to isolate the group of people to which the victims were targeted for belonging.  Therefore we ought to raise our voices and cry out about the violence, to remember what was done, why it was done, and face the facts which make it likely to be repeated.
So, we have to simultaneously ignore El Twerpo and examine him deeply, simultaneously dismiss his loathsome beliefs and search for their roots in our social order and their echoes in our own minds, simultaneously equate him with all that is weak and contemptible and recognize the bleak power that broods behind him.  How can we strike this balance?  The hell if I know.  But I am sure it must be done.
Posted by acilius on June 20, 2015
http://losthunderlads.com/2015/06/20/an-impossible-balance/
A few days ago, I left a long comment on Chris Dillow's blog "Stumbling and Mumbling."  Mr Dillow had posted about a controversy that began when someone participating in a march protesting the results of Britain's recent general elections (results which I predicted with less than total accuracy) added these words to a war memorial: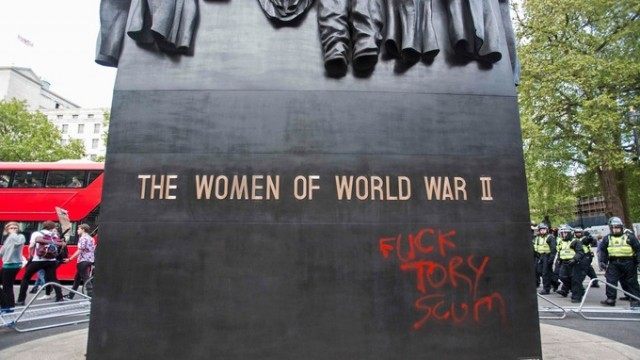 The controversy took on a life of its own after journalist Laurie Penny tweeted about it:
The furore that greeted Ms Penny's remark reminded Mr Dillow of a book that I happened to have read just the other day: The Righteous Mind, by Jonathan Haidt.  I'd heard about this book more or less continually, from various people, since its original publication three years ago, and had been meaning to get round to reading it ever since. Professor Haidt, a social psychologist, argues that moral reasoning is best understood not as any one thing, but as a network of six interlocking systems.  These systems are the ways we have learned to differentiate between Care and Harm, Fairness and Cheating, Sanctity and Degradation, Loyalty and Betrayal. Authority and Subversion, and Liberty and Oppression.  According to Professor Haidt and his fellow advocates of "Moral Foundations Theory," analyzing the opinions people express about what is right and wrong in terms of these six systems and of the relationships among them enables researchers to give more accurate accounts of the concerns of people who differ from them in class and culture than do other models, especially models drawn from reductionist philosophical projects such as utilitarianism.
Excerpts from Mr Dillow's post:
The left and right don't understand each other's conceptions of morality, and don't even try to do so. This is the message I take from last night's row about Laurie Penny's reaction to the vandalism of a war memorial….

"Destruction" isn't entirely hyperbole. The Tories' proposed £12bn cut in welfare spending is equivalent to £45 per week per working age benefit recipient. That would impose horrible hardship upon many.

Instead, Laurie's mistake consists in doing exactly what Jonathan Haidt in The Righteous Mind accused the left of: she's seeing morality as comprising just one idea whereas the right sees others.

Haidt and his colleagues claim that there are (at least) five foundations of morality: care/harm, fairness/cheating, loyalty/betrayal, authority/subversion and sanctity/degradation. The left, he says, stresses the first two of these but underweights the last three.

And this is just what Laurie was doing. She was emphasizing the care principle, whilst being blind to the sanctity principle – to the idea that we believe that some things, such as vandalizing war memorials, are wrong because they break taboos even if they don't do material harm to anyone…

Which brings me to the problem. Far too many – on left and right – are so wrapped up in their own narcissism and so quick to condemn others that they fail to understand (or even try to) where others are coming from: the virtue of Haidt's framework is that it facilitates such understanding.

What's being lost in all this is Mill's classical liberal idea – that there is a strong case for cognitive diversity. For me, Laurie's voice is a welcome contributor to this diversity. If the herdthink that rushes to condemn leads to her being more inhibited, something valuable will be lost.
My comment was largely directed at earlier commenters who were too fired up about the issue to address the material about Professor Haidt's theories that Mr Dillow had raised, and so consisted largely of an elaboration on some points Mr Dillow had already made:
Just the other day I finally got round to reading The Righteous Mind, and here you bring it up.

I think Professor Haidt gives us a very clear vocabulary for explaining, among other things, why religious freedom is so hard to maintain. Different religious groups have different conceptions of sanctity. What one person sees as deeply holy another person might see as purely functional, so that Laurie Penny's comparison of the welfare state to a war memorial might be unintelligible to someone who regards the welfare state simply as a set of policies and institutions to be evaluated by their effectiveness at helping poor people get on, rather than as a transcendent force that sanctifies society. Likewise, the depth of horror that many people feel when a war memorial is vandalized is unintelligible to those who regard that memorial in purely functional terms; clean it up, and it sends the same message it sent before. The uncleanness that bothers those who are most horrified is a ritual impurity, not the marks that bleach or acetone can remove.

What really makes it difficult for people with different senses of the sacred to share a homeland is that something which one group regards as the most sanctified of all things might strike another group as the vilest of all pollutions, and vice versa. Go to an old church and look at the niches from which the Puritans tore the visual artwork during their days of iconoclasm, and think of all the other religious conflicts in history.

War memorials are very much part of this kind of thing. They appeal to Professor Haidt's Loyalty and Hierarchy axes, but to Sanctity as well. So, if you regard a particular war as an abomination, a particular cause as hideously unjust, then a memorial commemorating those who died to advance that cause may strike you not only as a symbol of disloyalty and subversion, but also as a pollution of the space it occupies. Imagine if a memorial to the Kouachi brothers were erected outside the front window of the offices of Charlie Hebdo. Would it be enough to drape that memorial with a cloth so that no one could see its message? Would it be enough to remove it quietly and replace it with a flagpole flying the Tricoleur? Or would you feel an urge to destroy the memorial as noisily and dramatically as possible and to put some object on the site to which the Kouachis would have objected (perhaps an obscene image of Muhammad)? Indulging that urge would hardly be necessary to display one's loyalty to France, and would likely involve violation of the hierarchy of the French state. It would make sense only as an attempt to exorcise the ritual impurity that association with the Kouachis would bring upon the site.

Now, the protestors who scrawled "Fuck Tory scum" under the words "Women of World War Two" were probably not objecting to the women of World War Two, not even to those among them who took Tories with poor hygiene as lovers. Still, to the extent that the war memorial is a symbol of the state and the Cameron government has come to be identified with the state, presumably they would have seen the memorial as an unclean thing and their graffiti would be an attempt to purge its uncleanness.
In fairness to Ms Penny, I should probably mention that she does seem to be more aware of these issues than either Mr Dillow or I have implied in the remarks above.  So the first tweets she posted after the one that caused all the trouble describe her grandmother's contribution to the United Kingdom's efforts in the Second World War and the role that the postwar development of the welfare state played in improving her lot.  Ms Penny tells us that her story and those of women like her consecrate the welfare state as a monument to the memory of the "Women of World War Two," and that the Cameron government's policies are a desecration of this monument:
So Ms Penny explicitly acknowledges the importance of the Sanctity/ Degradation axis as part of moral reasoning.  For her, that axis may be subordinate in its importance to the Care/ Harm axis and the Fairness/ Cheating axis.  But those who responded to her tweet in ways like this:
don't seem to be treating the Sanctity/ Degradation system as an independent thing either- calling Ms Penny a "cunt," libeling her late grandmother, etc, are not obvious ways of increasing the overall holiness of Twitter.  For these tweeps, Sanctity seems to be a function of Loyalty and Authority, Degradation a function of Betrayal and Subversion.  Perhaps healthful dialogue between people who disagree on moral questions requires, not only that we all acknowledge the full spectrum of moral concerns, but that we respect each of the six systems on its own terms, not trying to reduce the concerns of one to the terms of another.
Posted by acilius on May 15, 2015
http://losthunderlads.com/2015/05/15/the-clean-and-the-unclean/
Posted by acilius on May 11, 2015
http://losthunderlads.com/2015/05/11/alison-bechdel-is-pretty-great/
Yesterday I visited Oxford's "Practical Ethics" blog and read a post titled "Why I Am Not a Utilitarian," by Julian Savulescu.  Professor Savulescu says that he is not a utilitarian because utilitarianism advises us to act in a way that he would find impossible:
As we argue, Utilitarianism is a comprehensive moral doctrine with wide ranging impact. In fact it is very demanding. Few people if any have ever been anything like a perfect utilitarian. It would require donating one of your kidneys to a perfect stranger. It would require sacrificing your life, family and sleep to the level that enabled you to maximise the well-being of others. Because you could improve the lives of so many, so much, utilitarianism requires enormous sacrifices. People have donated large parts of their wealth and even a kidney, but this still does not approach the sacrifice required by Utilitarianism.

For these reasons, one criticism of utilitarianism is that it is too demanding.

Bernard Williams, a famous critic of Utilitarianism, once infuriated Dick Hare, a modern father of Utilitarianism, in a TV interview by asking him,

"If a plane had crashed and you could only rescue your own child or two other people's children, which would you rescue?"

Utilitarians should rescue the two strangers rather than their own child.

People think I am a utilitarian but I am not. I, like nearly everyone else, find Utilitarianism to be too demanding.

I try to live my life according to "easy rescue consequentialism" – you should perform those acts which are at small cost to you and which benefit others greatly. Peter Singer, the greatest modern utilitarian, in fact appeals to this principle to capture people's emotions – his most famous example is that of a small child drowning in a pond. You could save the child's life by just getting your shoes wet. He argues morality requires that you rescue the child. But this is merely an easy rescue. Utilitarianism requires that you sacrifice your life to provide organs to save 7 or 8 lives.

Easy rescue consequentialism is, by contrast, a relaxed but useful moral doctrine.
I would go further than Professor Savulescu, and argue that it is not only unreasonably difficult to act as utilitarianism would advise in these extreme situations, but that the emotional attachments and personal drives that utilitarianism urges us to discard are the very things that make it possible for us to behave morally in the first place.  Professor Savulescu quotes research showing that the people who would in fact be willing to behave in ways that utilitarians urge upon us in their thought experiments are extreme egoists and psychopaths.  While such people might be willing to let their own children die in order to save the lives of a larger number of strangers, I would not envy those strangers were they subsequently to find themselves in any way dependent on their rescuers.
Other commenters on Professor Savulescu's post had made this point by the time I got to it, so I did not say anything about it in my own comment.  Instead, I picked up on a remark that an earlier commenter had made about the various thought experiments in which utilitarians deal.  One of the more famous of these thought experiments is the "Trolley Problem," in which one is asked to consider two hypothetical alternatives in response to a runaway trolley.  Left unchecked, the trolley will run over several people and kill many of them. The only way one has to check it is to push a fat man in front of the trolley, killing him but saving the others.
This and similar thought experiments raise the question of knowledge- how does one know that one will be able to push the fat man over, how does one know that his body will suffice to stop the trolley, how does one know that the others will be slower to get themselves out of the way of the trolley than one will be to push the fat man over, etc etc.  In posing the hypothetical, a philosopher can always dismiss these questions by saying that, ex hypothesi, the premises are all true.  But the closer you get to real life, the more pressing and more numerous the knowledge problems become.
When philosopher Jeremy Bentham developed utilitarianism 200 years ago, he built it around a notion often called "the hedonistic calculus."  This calculus subtracts pain from pleasure, yielding a quantity of net pleasure.  The right action is that which provides the greatest amount of net pleasure for the greatest number of people.  Faced with the question of how any person could possibly know what action would provide this, considering that to do so one would have to know every consequence one's action is likely to have on every person for all of future time, what precisely the feelings of each of those people would be about each of those consequences, and how intense each of these feelings would be, Bentham resorted to a utopian solution.  He coined the word "Panopticon," naming a social system in which every person was under total surveillance at all times.  In such a system, the authorities might be able to form an educated guess as to what the consequences of their policies would be for their subjects.
The idea of the Panopticon in turn raises several questions.  How would such surveillance originate?  If it were instituted by people who were not themselves under surveillance, and who did yet not have access to the information surveillance would produce, how could they know that the surveillance they were crafting would itself serve to produce the greatest net pleasure among the greatest number of people?  Moreover, since the subjects of the Panopticon would know that they were under surveillance, the institution of surveillance itself would change their psychology quite dramatically, making it impossible for people living before the creation of the Panopticon to have an empirical basis for their expectations as to how such people would react to life within it.  Would those conducting the surveillance themselves be subject to surveillance, and if so, who would maintain surveillance on those conducting surveillance of those conducting surveillance?  Would there be other societies outside the realm of the Panopticon, and if so how would one know what policies would bring the greatest net pleasure to the members of those other, unsurveilled societies?  What about future generations, whom it is impossible to keep under surveillance as they do not yet exist?  How could the rulers of the Panopticon assess the feelings the consequences of their policies would produce in people of future times when they cannot monitor such people?  And, considering that the hedonistic calculus is essentially about subjective feelings of pleasure and pain, how do we respond to suggestions that our understanding of each other's subjective feelings is always incomplete?  Finally, how does the existence of the Panopticon condition individual behavior?  Does every individual of every station have access to the complete records of the Panopticon?  Are all to use this information in making every decision in their lives?
Even in a society constructed as a Panopticon, then, it is far from clear how one could know enough to live as the utilitarians say we should.  Indeed, many forms of knowledge that are required, for example knowledge about future events or about other people's subjective responses, may not be obtainable even in principle.  A commenter named Sean OhEigeartaigh pointed out that utilitarian thought experiments require unrealistic assumptions about the amount of knowledge a moral agent might have.  This was the point I was picking up on in the comment below:
I think Sean O hEigeartaigh makes the vital point, which is that these scenarios require more information than a person could reasonably be expected to have. Indeed, I would go further, and say that the whole concept of the hedonistic calculus requires that an agent have more information than a human being could possibly have. As such, utilitarianism is not an ethical theory at all, inasmuch as it cannot develop a set of criteria for judging human behavior. Its only possible use would be as a theodicy, a means of justifying the behavior of a supernatural being who is either omniscient or at a minimum radically better informed than humans can be.

Perhaps it is too much to say that utilitarianism is possible even as a theodicy. To make a theodicy go, one must grant, first, that a supernatural being exists, second, that that being is in some profound sense better than we are, and third, that the actions of that being require moral justification. None of these premises would appear to be particularly secure. Moreover, an attempt to use utilitarianism to justify the acts of whatever supernatural being we have posited would immediately run into a variety of other problems, some of them quite severe. Most obvious, perhaps, is the stubbornly ambiguous concept of "pleasure" at the stem of all theories of utility. I for one can think of no reason why a utilitarian theodicy would have an easier time meaning one thing at a time by this word than the attempted utiltarian philosophies of the last two centuries have had. Furthermore, the implications of conceding the existence of a supernatural being whose knowledge is radically superior to ours would seem to be rather wide-ranging and to call for a rethinking of the concept of rationality on which Bentham et al were trying to elaborate. So perhaps the time has come to discard utilitarianism altogether.
The bit about pleasure refers to another problem that Bentham tried to solve by accepting something horrid.  Asked what he would say if it could be shown that playing push-pin had given more net pleasure than high art, he would unhesitatingly say that in that case push-pin was better than high art.  Bentham's most famous follower, John Stuart Mill, tried to escape from this by distinguishing among various forms of pleasure, high and low.
What Mill ended up doing was raising a question that has widely been considered fatal to the claims of utilitarianism to be taken seriously: what exactly is "pleasure"?  I think we know, when we say that listening to music gives us pleasure, and eating a fine meal gives us pleasure, and being reunited with a loved one gives us pleasure, and completing an important job of work gives us pleasure, that we are not saying that these experiences are interchangeable.  Saying that we have received pleasure isn't at all like saying that we have received money.  If we set out to describe with technical precision what it is that each of those experiences has given us, we will not be surprised to find that the answer is a set of distinct and complementary feelings, not differing quantities of any particular substance.  Discard the idea that "pleasure" and "pain" are the names of substances, in the Aristotelian sense of the word "substance," and it is difficult to see what, if anything, is left of the hedonistic calculus.
Posted by acilius on December 2, 2014
http://losthunderlads.com/2014/12/02/why-i-am-not-a-utilitarian/
Late last night, I saw this on Twitter:
My response was:
I had a couple of things in mind here.  First, the police are supposed to operate within communities where the rule of law is established, and to preserve that rule of law.  Unionization makes them likelier to do this.  In some places in the world there are still radical trades unions, but in most places most unions are pretty thoroughly interwoven into civil society.  Pay your union dues, go to union local meetings, etc, and you'll be constantly reminded that you are part of the local community and that you have a stake in the well-being of your neighbors.  Each time you receive one of those reminders you become that much more likely to act like a human being while you're on the job.  Combat forces, by contrast, have as their mission "to engage the enemy and to destroy him," as the US Army Infantry Field Manual used to put it.  If we forbid unions in the military, that is largely because we want our warriors to remain aloof from the people we are sending them to kill.
That's a sort of generalized communitarian point.  Second is a more left-wing kind of point.  Collective bargaining between representatives of the average cop on the beat and the representatives of the city governments shows that average cop that s/he makes a living by working for wages and as such has more in common with other wage-earners or would-be wage earners than with the people who call the shots in politics, which is to say the people who live primarily on the proceeds of capital.  That isn't to say that unionized police will want to abolish capitalism; careers in police work tend to be more attractive to very conservative people, and for that matter I'm inclined to support capitalism myself.  But I do believe that the only legitimate power is limited power.  And a police force staffed by officers who know that their economic interests are further from those of the average politician or politician's paymaster than they are from those of the average suspect is a definite limitation on the power of economic elites who are always eager to use the law as a weapon to intimidate those who get in their way.
Here's a clip from the 1976 documentary Harlan County USA, in which a unionized coal miner, in New York City to protest outside the headquarters of the company against which he's been on strike for nine months, talks with a unionized NYPD patrolman.  The seventies are ancient history in a lot of ways, of course, but this is still a good illustration of the general points I'm making here:
Posted by acilius on December 1, 2014
http://losthunderlads.com/2014/12/01/police-unions/
This morning I looked at Twitter and saw this from Liza Cowan: 
I mention such a wide variety of people on this site that I laughed out loud when I saw this.  Perhaps Catharine MacKinnon, Pope Benedict, Susie Bright, the Ukulele Orchestra of Great Britain, and Leonard Nimoy (to mention five names that have occurred here more than once) are all together in some darkened room plotting iniquity at this moment, but I find it hard to imagine.  So I wrote in reply:
Liza explained:
Apparently Liza's nemeses had Googled her name and Pam Isherwood's together and found our old page of "Artists and Art Blogs."   They are both mentioned there, because of course they are- they're both very distinguished artists, and you're in for a treat if you go to their sites.  But the inquisitors took the presence of their names on the same list as evidence that Pam is Liza's "follower."  Looking over the list, Liza seems to have a pretty impressive set of followers, including Harvey Kurtzman, the Hubble Space Telescope, and the Queen of England.  
This controversy stems from Liza's view of transgenderism.  As I understand it, her view is related to that of the late Shulamith Firestone, who held that the relation between men and women is very much like the relation that Marxism describes between bourgeois and proletariat in the later stages of capitalism.  Women form a worldwide class of the oppressed, men a worldwide class of oppressors.  Femininity, on this view, is a scar left by abuse, masculinity a weapon wielded by the privileged.  Liza's opposition holds that gender is a more playful thing, that it is a set of roles we play, some by choice, some under duress, and that by playing the game our own way we can subvert the oppression that certainly does characterize gender relations by and large.  
I am not qualified to have an opinion about this issue.  Maybe Liza is right, maybe the Politically Correct Thought Police who are calling her names are right, maybe the truth is something else altogether.  What I do know is that Liza is an exciting artist, a rigorous thinker, and a good friend.  So if someone is out to ban or silence or smear people associated with Liza Cowan, I hereby volunteer to be banned, silenced, and smeared.   As I put it this afternoon:
And:
Posted by acilius on September 10, 2014
http://losthunderlads.com/2014/09/10/three-cheers-for-liza-cowan/
Recently in a comment on Alison Bechdel's blog, I replied to commenter NLC, who added to a political discussion the observation that not everyone who supports the USA's Republican Party is equally objectionable.  I agreed, and added:
@NLC: "There are Republicans and there are Republicans."

That's very true. I know some Republicans who, however hard I may find it to understand why they vote the way they do, are demonstrably quite all right in all the ways that really matter. I even know some Republicans who do yoga.

Fox News seems to be the separator, young people who are decent watch Fox News and leave the Republican Party, old people who are decent watch Fox News and turn into something like addicts- seriously, that channel is like crack cocaine for them. I suppose that means that in the long run Fox News will kill the Republican Party, but in the meantime it will kill a lot of worthwhile things.
In remarking on Fox News (a.k.a. the Faux News Channel,) I was thinking of some recent posts on a site that is for the most part at an opposite pole politically from Alison Bechdel's, Rod Dreher's blog at The American Conservative.  Mr Dreher is still quite conservative, but no longer identifies as a Republican.  One reason for this seems to be the effect that he has seen right-wing media have on its elderly fans.  In a post titled "Fox Geezer Syndrome," Mr Dreher quotes at length from several of his commenters who have told stories of aging their aging parents who have made themselves difficult to be around, not because of the opinions which Fox News and Rush Limbaugh and the rest of them have encouraged them to hold, but because of the belligerence, the obsessiveness, and the overall childishness with which they have begun expressing those opinions since immersing themselves in a constant stream of such material.  Adding to those comments, Mr Dreher writes: 
I recognize the Fox Geezer Syndrome these readers identify. This is what happens when conservatism becomes an ideology instead of an approach to life. It indicates an extremely unconservative temperament, frankly. I'm not deploying the No True Scotsman fallacy; these Fox Geezers may well be conservative in their politics, right down the line. What they're doing, though, is allowing politics to consume their minds and their entire lives, such that they are making impossible the kinds of things that true conservatives ought to be dedicated to conserving: that is, the permanent things, like family. I have been around Fox Geezers before, and I see absolutely no difference between them and the kind of self-righteous loudmouths on the left that make reasonable discussion impossible, because all problems are reduced to a conflict between Good and Evil, and decided in advance.

The tragedy — and I think it is exactly that — is that the elderly often have great wisdom to share with the younger generations, to say nothing of the fact that it is they who have the long view, and who ought to understand how important it is to nurture bonds among family members, especially across the generations. Yet in these cases, it is they who behave like teenagers and twentysomethings, full of piss and vinegar and a toxic certainty, plus a radioactive impulse to crusade. What they lack is the principal conservative virtue: Prudence. I have some strong views too, as you know, but I strive never to let them come between myself and the people I am given to love. If I want them to tolerate me for the greater good, then I must extend the same grace to them.
Conservative that he is, Mr Dreher goes on to identify the same dynamic at work among the elderly liberals and lefties who predominate in the comments section of The New York Times.  I've certainly seen it at work among acquaintances who regard any criticism of the Obama administration as support for Mr O's Republican opponents.  Such an attitude seems to be as natural a product of habitually watching the rah-rah, Go Blue Team cheerleaders on MSNBC as Fox Geezer Syndrome is of habitually watching the rah-rah, Go Red Team cheerleaders on Fox.  
Posted by acilius on September 9, 2014
http://losthunderlads.com/2014/09/09/down-the-political-rabbit-hole/
Posted by acilius on September 8, 2014
http://losthunderlads.com/2014/09/08/how-to-succeed-in-politics/
What we talk about

Follow us on Twitter

My Tweets

Affiliated

Blogroll

Pages

Tag Cloud

Who writes this?

What's on here about…

Month by month